Historical Markers
The links will open on Texas Historic Sites Atlas.
Buffalo-Ebony Cemetery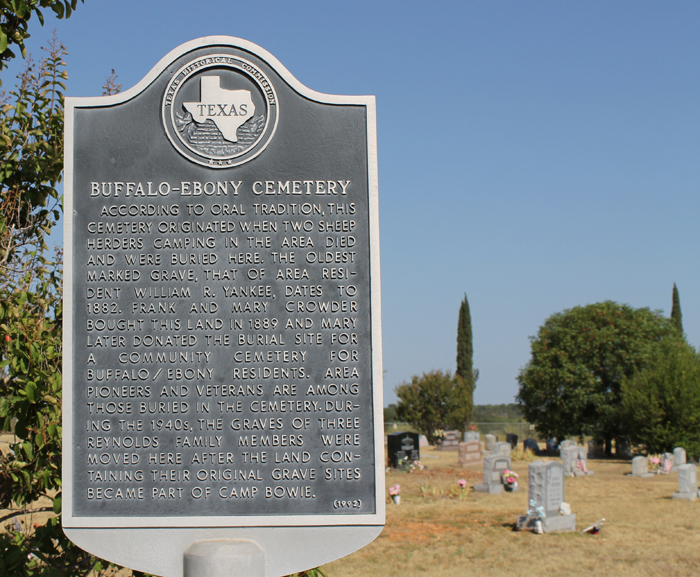 According to oral tradition, this cemetery originated when two sheep herders camping in the area died and were buried here. The oldest marked grave, that of area resident William R. Yankee, dates to 1882. Frank and Mary Crowder bought this land in 1889 and Mary later donated the burial site for a community cemetery for Buffalo/Ebony residents. Area pioneers and veterans are among those buried in the cemetery. During the 1940s, the graves of three Reynolds family members were moved here after the land containing their original grave sites became part of Camp Bowie.
Caradan Cemetery

After the Civil War families settled in this area, originally called Lookout. A. F. Smith deeded two acres of land in 1889 for a public school. Arthur Nixon, the infant son of W. J. Nixon and N. E. Nixon, died later that year and was buried on school land. When the school burned in the early 1900s, it was rebuilt in another location, leaving two acres for the cemetery. Among the more than 150 graves here are veterans of the Civil War, World War I, and World War II. The cemetery is one of the few physical remnants of the once thriving town of Caradan, and still serves the community.
Center City Baptist Church

In 1875, Reverend Noah Turner Byars, a former blacksmith who served with Sam Houston during the Texas Revolution, founded this church and served as interim minister. Rev. Byars ordained David Isaac Haralson, the first permanent pastor. Byars also led the Bennett Creek Baptist Church, as it was known then, to be part of his newly-formed Hamilton County Association of Baptist Churches. In 1887, when the area was formed as Mills County, the church was one of the oldest in the county. It was called Center City Baptist Church in the 1901 deed and, soon after, a permanent structure was built in the newly-established community by that name. However, summer revivals were held under a brush arbor as late as 1940. In 1946, high wind destroyed the original wood frame church building and a new building was erected that included an auditorium and classrooms. The church was a cooperative member of the community from the beginning, sharing its building and resources with other denominations. Revivals were part of the mission of the church from the early years. The tradition continues with special revival nights in the cooler months and longer summer revivals. Over the years, Center City Baptist Church ordained many deacons and ministers who went on to serve much larger churches in the area. In addition, the church has been very active not only in the community but worldwide through the service and support of missionaries, including missionaries to Alaska in the 1960s and 1970s. For well over a century, Center City Baptist Church has been a beacon for the surrounding area.
Center City Cemetery
The Center City Cemetery began with the burials in 1874 of Julia M. Bishop and M. E. Hughes, the adult and infant daughters of W. C. and Caroline Hughes, early settlers of this area. Judge L. E. Patterson purchased 2.5 acres containing the Hughes burials in 1905 for use as a community graveyard. Concern for its upkeep prompted the establishment of a cemetery committee in 1951. A $1000 gift to the cemetery in J. M. Dalton's will in 1967 helped establish a maintenance fund. The more than 500 burials recorded here include those of many of this area's earliest settlers.
Center City Community
Settled in 1864 by the families of William Jenkins and David Morris (1811-89), this community was called "Hughes Store" after W. C. Hughes and his wife opened a store here in the 1870s. They platted a townsite in 1876, hoping to attract the railroad and to become county seat. An ancient live oak (100 yds. S), by tradition once considered the center of Texas, was site of temporary court and school sessions and religious services. Renamed "Center City", this thriving town boasted several stores and businesses until the railroad bypassed it in 1885. The post office remained until 1920.
Center City United Methodist Church

In the early 1870s, shortly after the founding of Center City (first known as Hughes Store), a circuit riding preacher ministered in the area. Charter members officially formed a Methodist church in 1878. Members first met in the community's masonic lodge building before completing construction of a facility in 1901. From its early days, the congregation was committed to serving the community. By the 1950s, members partnered with other churches to work with youth and to focus on foreign missions. In 1952, members moved into a new church building. Today, the congregation continues to serve as a spiritual leader in the community of Center City.
Confederate Veterans Memorial of Mills County
Dam and Well
When the Gulf, Colorado & Santa Fe Railroad reached this area in 1885, company officials platted the town of Goldthwaite and built a reservoir to supply water for steam locomotives. A 25-foot-high dam near this site stored water from several springs, creating a pond that became a favorite swimming spot. The railroad dug a 50-foot-deep, spring-fed well at this site in 1906 to provide more water. In 1915, when these sources became inadequate, the dam was broken and reservoir drained. Today the springs form a stream which runs through Mills County Park, and the well is used by the city.
Democrat Cemetery


Although settlement of this area dates to 1878, this graveyard was not established until the turn of the 20th century. The earliest documented grave is that of one-year-old Lee Ella Deen, daughter of W. F. and M. L. Deen, who died in November 1904. In February 1905, J. L. Chancellor deeded the surrounding three acres of land to the citizens of the Democrat and Rock Springs communities for use as a public burial ground. Among the early graves in the cemetery are those of a number of infants and children, victims of the influenza epidemic that raged worldwide in the early 20th century, and veterans of the Civil War, World War I and World War II. A reflection of area history, the cemetery remained in use at the turn of the 21st century. (2000)
Duren Cemetery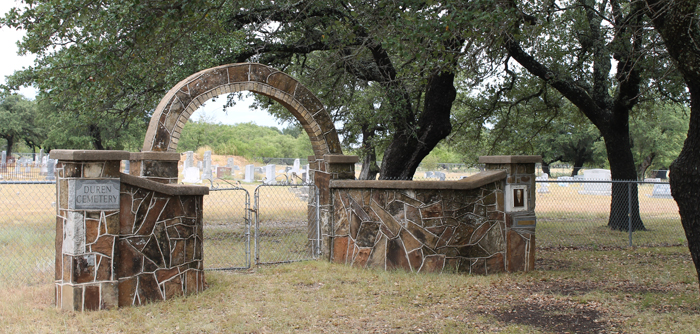 In 1876, Philip David Duren bought 390.5 acres here and built a log home. He later brought his family, including newborn daughter Willie Lee, from Houston county to their new home. Willie Lee died in Sep. 1878 and was the first burial here. In 1893, Duren deeded the surrounding five acres "for school purposes;" Duren school operated until 1947 and Pompey Mountain Church still serves the area. In 1912, Duren reaffirmed public use of the site in a new deed which stipulated free burial plots and a church open to different denominations. Historic cemetery features include metal and stone gates, curbing, interior fencing, and limestone, marble and granite gravestones. Duren cemetery now numbers several hundred burials.
First Methodist Church of Goldthwaite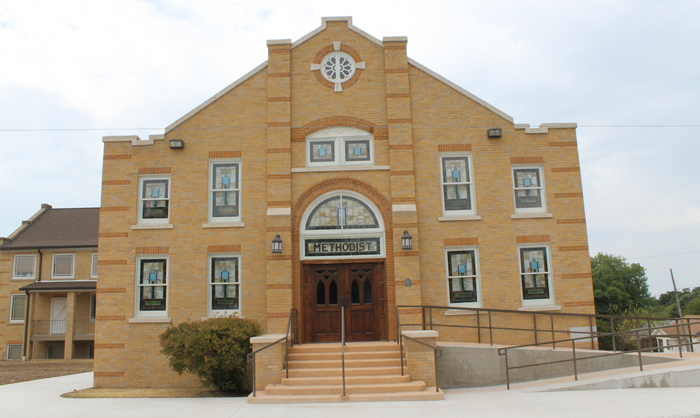 Goldthwaite Methodists trace their history to the mid-1850s, when circuit-riding preachers began traveling to the area to minister to early permanent settlers. The pioneers gathered for services in private homes, out of doors, or in a one-room schoolhouse. For a time they were led by The Rev. H. Childress, who was known as the "bear-hunting preacher" because of the firearms he carried for protection while traveling. In 1885, the Santa Fe Railway founded the town of Goldthwaite. The town's railroad crew and passengers formed a ready market for goods and services, attracting new residents, who formed a local congregation of the Methodist Episcopal Church, South, that year. The Rev. C. V. Oswalt was the first pastor, and within two years the congregation completed its first church structure, a wood frame building. Since that time, the congregation has built several progressively larger church structures to accommodate its growth. Due to denominational mergers, the congregation changed its name to the First Methodist Church in 1939, and to the First United Methodist Church in 1968. Active in missionary and social service since its beginning, the First Methodist Church remains an important part of the religious life of this community.
Goldthwaite Eagle
In 1885 William H. Thompson (1842-1896) started a weekly newspaper, "The Mountaineer", which closed but was reestablished in 1894. He sold it in 1896 to R. M. Thompson, his nephew, who renamed it "The Goldthwaite Eagle". At that time eagles still lived in the hills of Mills County. The paper was bought in 1920 by Dr. E. M. Wilson. It changed hands between the Wilson and Thompson Families until 1950, when Charlie T. Wilson sold it to H. R. Ekins. A merger with "The Mullin Enterprise" made it the county's only newspaper. In 1971 Frank Bridges purchased "The Eagle" from Victor E. Koleber.
Goldthwaite Memorial Cemetery
Goldthwaite Memorial Cemetery In 1888, three local men bought land for use as a cemetery; the first burial was that of Houston Roberts. The Odd Fellows Lodge bought the grounds in 1894, adding land over the years. Watson Whittaker was killed during an 1898 train robbery and made headlines as a funeral train brought him to Mills County for burial here. The lodge sold the cemetery in 1943 to the city, and it became Goldthwaite Memorial Cemetery. Local groups made improvements and placed memorials to honor the sacrifice of area veterans buried here. Today, the cemetery provides a link to area history. Historic Texas Cemetery - 2002
Hamilton-Soules House

Thomas Edgar Hamilton (1878-1933) moved with his family to Mills County in the early 1890s. In 1898, he wed Nettie Ethaline Sargent (1879-1950), and the couple had four children. They made their home in Star, where he worked in a nearby family cotton gin and as a bookkeeper. He later became a banker and school board member, and was active in bringing an electric plant to the town. Daughter Maurine wed rancher John B. Soules in 1918, and they moved into the family home in 1937. The c. 1900 house represents a late Victorian transitional style and has long been a focal point for social and community activities and events. Recorded Texas Historic Landmark - 2004
Jackson Massacre
Settlers Moses and Lydia Jackson set out one morning in October of 1858 with four of their seven children to spend the day with friends. As they neared their destination they encountered a small party of Indians, possibly Comanches. Louis and I. J. Jackson and their parents were killed immediately. The two middle children, Joshua and Rebecca, were abducted, only to be abandoned after almost two weeks. They walked for two days before being recovered by a search party of settlers and Texas Rangers near Sweetwater. The Jackson family was buried where they fell, a short distance from this site. (1998)
John Williams
(February 6, 1804-August 4, 1871) One of the earliest permanent settlers of Brown and Mills counties, North Carolinian John Williams migrated to this area in 1855 and helped start the local cattle industry. Williams Ranch settlement grew up around his homestead, and Herd Pen Branch of Mullin Creek took its name from his roundup pens. Married to Annie Epley, he had five sons, William L., George W., John T., James D., David A., and one daughter, Elizabeth C., all pioneers of the community.
Mills County
Formed from Brown, Comanche, Hamilton and Lampasas counties. Created March 15, 1887. Organized August 30, 1887. Named in honor of John T. Mills, 1817-1871, Judge of the Third and Seventh Judicial Districts in the Republic of Texas. Goldthwaite, county seat.
Mills County Courthouse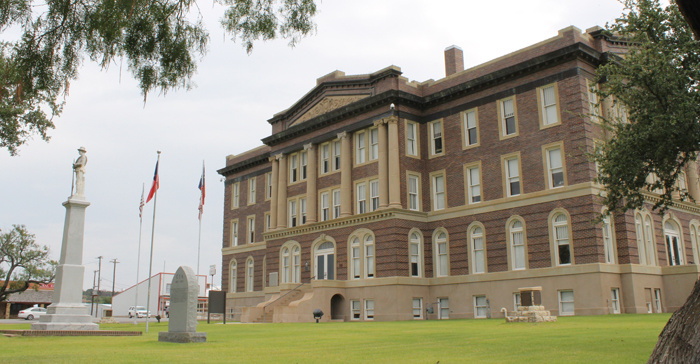 Mills County was formed in 1887, and citizens built a county jail in Goldthwaite the following year. In 1889, Goldthwaite was chosen county seat, and Oscar Ruffini designed the first courthouse; it served at this site from 1890 through 1912, when it was destroyed by fire. The county hired noted San Antonio architect Henry T. Phelps to design this courthouse, completed in 1913 by the Gordon-Jones Construction Company. Phelps chose the Classical Revival style for the three-story structure with basement, using a rectangular form, a central, ornamental pediment and fluted, engaged columns. Recorded Texas Historic Landmark - 2002
Courthouse built 1890
Courthouse built 1913
National Register Listing
Mills County Jail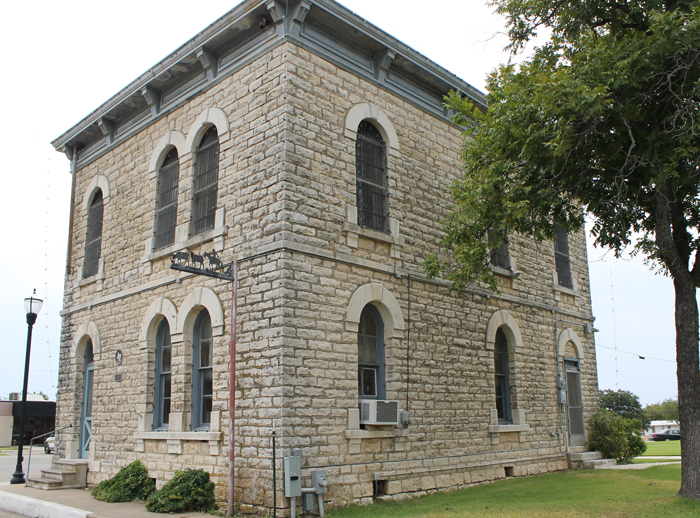 Mills County Jail, 1888. First structure built by newly organized county, before county seat was chosen.
Mills County Jailhouse National Register Listing
Mills County Courthouse and Jail State Antiquities Landmark
Mills County Historical Museum
Mills County State Bank

Mills county experienced much growth from 1887 to 1917 after the establishment of the Gulf, Colorado, and Santa Fe railway in the region. As Goldthwaite became the county seat and center, locals saw the need for a bank. On June 4, 1888, D.H. Trent opened a private bank on the east corner of Fisher at 4th Streets with deposits of $4,168.61 and stock account of $11,449.50. Four years later, First National Bank of Goldthwaite was organized with W.E. Mller as President. The stockholders of the bank voted to liquidate in 1901, and the building along with the furniture was sold to Trent. In 1908, Charter No. 369 was granted at the first meeting of the Stockholders of Trent State Bank under which the bank operates today. Trent State Bank was located on the west corner of the same intersection of Fisher at 4th Streets. Directors voted on January 29, 1952 to change the name to Mills County State Bank. In 1960, the Board of Directors made plans for the building of modern banking quarters. The new facilities, which included a drive thru lane, were constructed at 1017 Parker Street. On October 10, 2008, staff, officers, directors, stockholders, many banking dignitaries, friends and customers of the bank attended a celebration at Mills County State Bank that marked 120 years in banking and 100 years as a state chartered bank. Over the years, the bank has expanded, modernized, and opened other offices in Brownwood, Early, and Hamilton. It is commended for its perseverance through difficult times and is considered a loyal advocate of the communities it serves.
Mohler Cemetery
Ambrose Bull bought part of the Moses Hughes tract in Nov. 1859 and was among the first settlers in the Bulls Springs community. War of 1812 veteran George Washington Joy is thought to be the first person buried here in the 1870s. Of 83 surveyed graves, 27 are unknown, and most date from the 1870s to 1920s. In 1899, land was placed in trust with County Judge G. H. Dalton by Trustees C. B. Mohler, S. A. Bull and D. S. Kelley. Cemetery features include concrete curbing, raised brick crypts, iron fencing, shell grave decorations, and sandstone, granite and limestone markers. Many tombstones are engraved with poems written by family members. The cemetery is a chronicle of this early mills county settlement.
Mount Olive Primitive Baptist Church and Cemetery


Mount Olive Primitive Baptist Church was organized in July 1899 with nineteen charter members in the community of North Bennett. The new church adopted the articles of faith of the Old Harmony Baptist Association and called Elder W. W. Fowler as first pastor. The church purchased 15 acres of land in 1901 for a house of worship and cemetery. The church building also was used as a school-house and was shared with other denominations. Area population declined during World War ll, and by 1999 the church had four members. In addition to several of the church's charter members, many of the early settlers of the community are interred here, as are veterans of the U. S. Armed Forces. With more than 150 graves in 1999, the cemetery continues to serve the entire community. (1999)
Mullin United Methodist Church

Charles Mullins, for whom this town was later named, came here with cattle in 1857. By tradition, a Methodist circuit rider preached at his home. The date of the church's founding is uncertain. Worship was held in Mullin Schoolhouse for years. In 1893, Mr. and Mrs. J. E. Martin gave this site and in 1896 a building was constructed under leadership of The Rev. Marion Mills. After a 1919 cyclone wrecked that building the present native stone church was erected in 1920, using much material from original structure.
North Brown Cemetery


Named for creek followed by homeseekers, this burial ground originated about 1857 when death struck at a nearby campsite. In the 1870s North Brown farming community surrounded this site. It had a school and held church services in the schoolhouse. In 1895 local leaders A. A. Boulter, G. M. O'Quin, and J. S. Weatherby secured a deed to the acreage in which graves had so long existed, and the North Brown Cemetery Association was formed. After school had closed, proceeds from sale of its site were pledged in 1967 for cemetery care. Pioneer families continue burials here.
Pleasant Grove Cemetery

Named for the live oaks banking Simms Creek, Pleasant Grove was settled by Civil War veterans from both the North and South. The farm of Tom Berry (1844-1926) of Alabama adjoined this cemetery, opened with the burial of his daughter Mary (1872-1876). Pleasant Grove Methodist Church and a community school also stood nearby. Donations maintained the site until a cemetery association was organized in 1969. Church trustees added 15 acres to the burial ground in 1970. In over 400 graves, many unmarked, lie early settlers and their descendants.
Ratler, Texas and the Renfro Dam
Mary (Robins) and J. W. Jones built a dam of live oak logs and sandstone on the Colorado River about 8 miles south of this site between 1876 and 1879. The dam provided power to Jones' grist mill and cotton gin. The community became known as Jones Valley. The grist mill became a trade center, the dam a favorite recreation spot for area settlers. In 1883 the Jones' properties were sold to J. D. Willis. When Mills County was formed in 1885, the U. S. Postal Service set up a station in the Willis store, renaming the town Ratler. In 1933 Willis sold to B. F. Renfro, who rebuilt the dam of sandstone. The 1936 flood destroyed everything but the dam. (1998)
Regency Suspension Bridge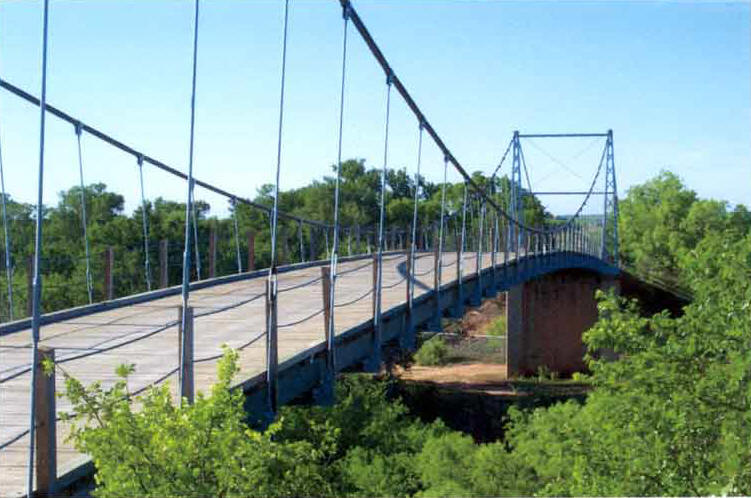 (near extinct town of Regency, 4.4 mi. S) This area's first Colorado River bridge was at Regency, on Mills-San Saba County line. Built 1903, it served ranchers and farmers for going to market, but fell in 1924, killing a boy, a horse, and some cattle. Its successor was demolished by a 1936 flood. With 90 per cent of the work done by hand labor, the Regency Suspension Bridge was erected in 1939. It became the pride of the locality, and youths gathered there in the 1940s to picnic, dance, and sing. Bypassed by paved farm roads, it now (1976) survives as one of the last suspension bridges in Texas. (1976, 1997)
National Register Listing
State Antiquities Landmark
Rural Communities of Western Mills County
Pioneers migrated to western Mills county to take advantage of the area's rich soil and ample water supply. The community of Regency, (originally Hannah Valley) received a post office in 1889. Today, few vestiges of Regency remain. Other area residents organized the Ebony community (originally Buffalo) in 1879. Regency and Ebony had churches, schools and other institutions. The Ridge community (originally Cold Springs) formed in 1888. The Ridge school building, built in 1931, was later used as a community center. During World War II, the U.S. Government purchased land in the region to form Camp Bowie. The towns declined when many residents did not return following the war.
San Saba Peak
Rising to an altitude of 1,712 feet, San Saba Peak is an oblong promontory with rimrock edges on the north and west sides. The Spanish Governor of Texas, Don Juan Antonio Bustillo y Cevallos, named the ancient landmark in 1732. Tales of lost silver mines have centered on the surrounding area for centuries. Inhabited by early Indians, San Saba Peak has been a landmark for pioneers, surveyors, and cowboys; the site of battles between Indians and early settlers; a signpost on the Fort Phantom Hill supply road; a register for western travelers; and a setting for Easter services. Texas Sesquicentennial 1836-1986
Site of Chesser Valley Community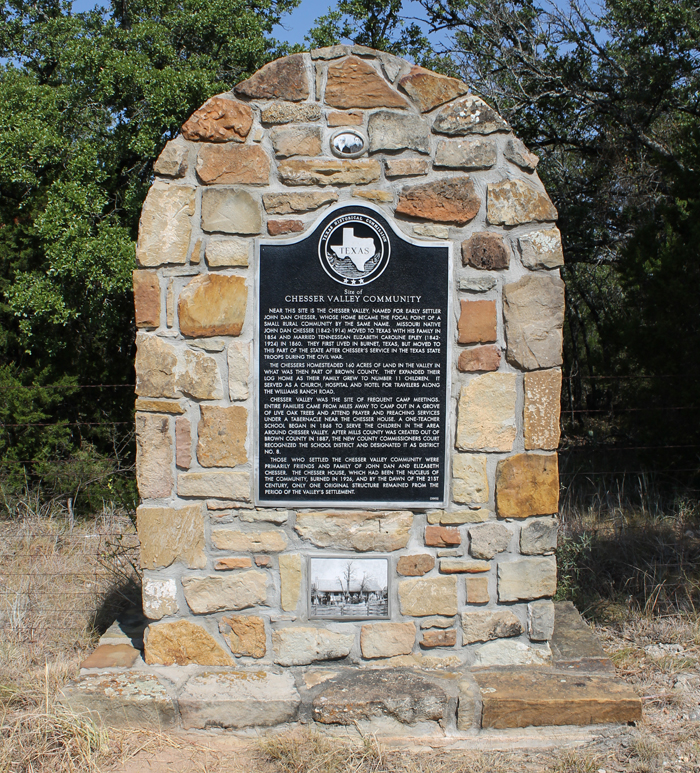 Near this site is the Chesser Valley, named for early settler John Dan Chesser, whose home became the focal point of a small rural community by the same name. Missouri native John Dan Chesser (1842-1914) moved to Texas with his family in 1854 and married Tennessean Elizabeth Caroline Epley (1842-1924) in 1860. They first lived in Burnet, Texas, but moved to this part of the state after Chesser's service in the Texas State Troops during the Civil War. The Chesser's homesteaded 160 acres of land in the valley in what was then part of Brown County. They expanded their log home as their family grew to number 11 children. It served as a church, hospital and hotel for travelers along the Williams Ranch Road. Chesser Valley was the site of frequent camp meetings. Entire families came from miles away to camp out in a grove of Live Oak trees and attend prayer and preaching services under a tabernacle near the Chesser house. A one-teacher school began in 1868 to serve the children in the area around Chesser Valley. After Mills County was created out of Brown County in 1887, the new county commissioners court recognized the school district and designated it as District No. 8. Those who settled the Chesser Valley community were primarily friends and family of John Dan and Elizabeth Chesser. The Chesser house, which had been the nucleus of the community, burned in 1926, and by the dawn of the 21st century, only one original structure remained from the period of the valley's settlement.
Star Historical Museum

The Old Town Well
Mr. Peyton died from poison fumes in digging this well; Ben Cox was also overcome; Deed H. Mayer rescued Mr. Cox and brought up Mr. Peyton's body; August 1887. In memory of these three men; Mills Co. Hist. Society
The Settlement of Williams Ranch
Once a prominent frontier town, Williams Ranch grew up around the homestead of cattleman John Williams (1804-1871), who came to this area in 1855. The community flourished during the Civil War (1861-1865) because of trade with Mexico and by 1874 had stores, saloons, a hotel, mill, and blacksmith shop. In 1875 Henry Ford and J. M. Parks bought most of the land in the village and platted a townsite. They proposed the name "Parksford" but "Williams Ranch" prevailed when the post office opened in 1877. The community was a stage stop and a roundup point on the western cattle trail. It claimed the first hotel, newspaper, telegraph, and public school in Brown and Mills counties. In 1881 it was one of the towns considered as a site for The University of Texas. Williams Ranch reached its peak of activity in the early 1880s, with a population of over 250. The settlement began to decline when the railroad bypassed it in 1885. An outbreak of mob violence was quelled by the Texas Rangers in 1887. By 1892 the post office and all businesses had closed. Today the site is marked by the natural springs that attracted the original settlers and by Williams Ranch Cemetery, burial place of many pioneers and their descendants.
Williams Ranch Cemetery

This historic cemetery overlooks the natural springs that were once the frontier settlement known as Williams Ranch on land granted to William W. Williams in 1852. In 1855, John Williams and wife Annie Epley Williams moved to this area and founded the Williams Ranch Settlement. The first marked grave dates to 1864 and is that of six-year-old C.K. Conner, great-grandson of John Williams, who died from a horse accident. A variety of headstones including granite, limestone and cast iron mark the graves of many pioneers, early settlers and their descendants along with veterans from the civil war to the Korean War. Organized in 1968, the Williams Ranch Cemetery association maintains the cemetery.
Zion Evangelical Lutheran Church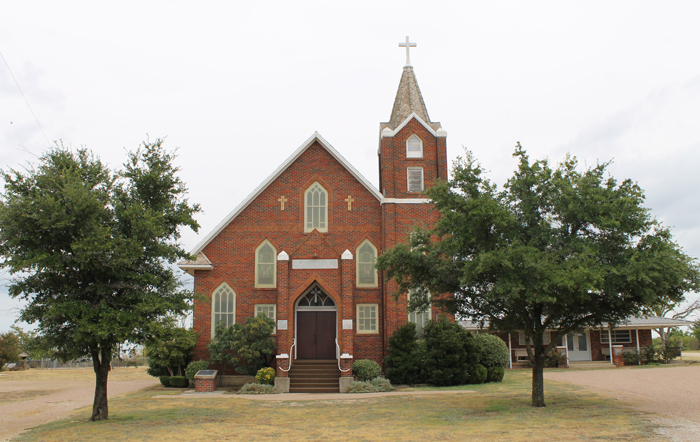 In the 1870s and 1880s many settlers of German ancestry began arriving in this area. In 1889, under the leadership of The Rev. R. Seils, Zion Evangelical Lutheran Church was organized. Early worship services were held in the Bismark schoolhouse (approx. 2 mi. S). Beginning with twenty-three charter members, the congregation grew steadily. By 1892, a small sanctuary was constructed and a cemetery was established on the church property (2 mi. SW). Another group of families began meeting together for worship services in the Priddy community, and in December 1903 organized St. John's Lutheran Church. Services were held in the Becker Mountain schoolhouse (approx. 2 mi. E). Soon both German Lutheran congregations were being served by the same minister. In 1929 the Zion congregation moved to Priddy and built a new sanctuary. In 1941, by mutual consent, the Zion and St. John's congregations joined together to become one church under the Zion Evangelical Lutheran Church name. A part of Mills County history for generations, this church continues to serve the community with many forms of outreach. (1989)